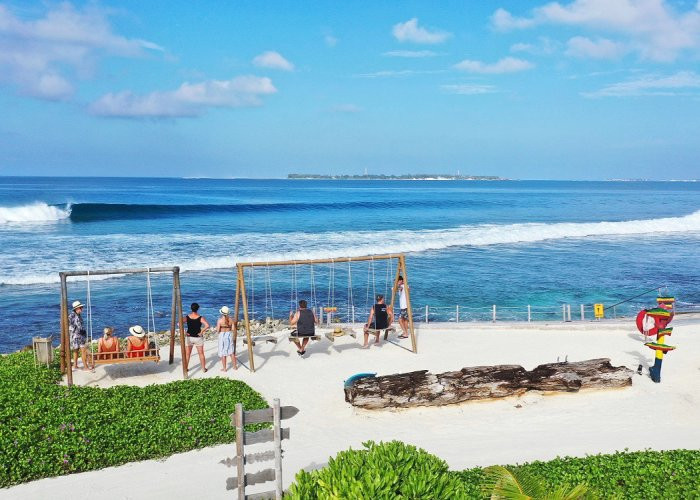 Experiences
February 22, 2021
Catch a Wave in the Maldives: Best Luxury Surf Resorts
A small island nation comprising a few thousand islands, the Maldives is a picturesque destination with sparkling azure waters and powder-white beaches. Popular amongst families and honeymooners alike, it is also known for its incredible surf with fun, clean and accessible waves.
The Maldives is located in the heart of the Indian Ocean, exposing it to Southern swells, which makes for top surfing conditions. The Southern Atolls are best known for their off-the-beaten-track, clean barrels, while the Northern and Malé Atolls are perfect but more crowd-packed.
When looking at the best times for surfing in Maldives, the surf season starts in March and ends in November; however, May to October is when the bulk of the swell arrives and the high season begins. This period sees clear skies and light winds. The biggest waves are likely to occur in June, July and August. During this period, the wind is mainly offshore all day long.
Niyama Private Islands Maldives
Niyama is an ultra-modern paradise with private beaches, butler services and luxurious beach pool villas and over-water villas with contemporary facilities for you to choose from. The resort is split into two twin islands: "Chill", which is adults-only; and "Play" which is more suited to style-savvy families. The island boasts a 24 hour spa as well as the world's first underwater music lounge. Rooms available include luxurious beach pool villas and overwater pool villas either on Chill or Play. All spacious and ultra-modern with full amenities, you will be spoilt for choice!
Niyama has a left-hander break right on its own shore - at Vodi surf point. Off to the west and five minutes away by speedboat, Kasabu is a hollow right-hander. There are many more waves nearby the island which are accessible by short boat rides.
When small, the waves are fun and caters to beginners, longboards and funboards. Bigger waves are more suitable for intermediate to advanced surfers. For beginners, dedicated instructors are available to help you practice different techniques and private coaching lessons are offered to those who wish to up their game. Some of the other surf breaks near Niyama include Hocus Pocus, Candy, Mad and Swirl.
Ayada Maldives is a private luxury island resort offering an exuberant island experience, all in the finest of settings. A beautiful island with pristine beaches and lush greenery in Gaafu Dhaalu Atoll, a relatively unexplored yet flourishing region in the Maldives, with excellent reefs and surf breaks nearby. Offering a wide range of restaurants and the award-winning AySpa - if you love to indulge in luxury right after your surf session, this is just the place for you.
Ayada is well known for its remote and uncrowded lineup, making it a fast drawcard amongst surfers, especially among intermediates and advanced surfers. There are also a number of other quality breaks you can choose from nearby the island, all easily accessible by a short boat ride. Due to its proximity to the equator line, there are many breaks within a short distance from each other in the atoll and the swell is good year round with waves that can accommodate all types of riders. For the best waves, guests are recommended to visit between September and May.
Some of the most popular surf breaks near Ayada include Love Charms, where you can take your pick from a selection of left-hand breakers over the coral reefs. You can also charter a boat to Five Islands, an excellent right-hander break which will keep regular-footed riders happy.
Located in South Male' Atoll, Naladhu Private Islands is a luxurious hideaway surrounded by coral fringed beaches, white sands and the jewel-toned Indian Ocean. It is home to 20 elegant and spacious beach houses, each a private sanctuary with a private swimming pool. Naladhu Island is set in the same area as sister islands Anantara Veli and Anantara Dhigu, and this particular area offers an immense variety in waves. From playful rights to down-the-line left barrels, there is something for any type of rider.
Tropicsurf operates directly from Anantara Dhigu and offers expert guidance, water safety and coaching tips. They also ensure quality boats and equipment dedicated to surfing guests.
Experienced surfers enjoy Veli Left, a left-hand break a short paddle away from the Veli pool bar at Anantara Dhigu. The furthest break, 30 minutes away, is also accessible by boat. The lineup tends to be relatively uncrowded, allowing you to surf in tropical solitude. Anyone can surf at Naladhu; beginners start under instruction in the calm waters of the lagoon, while more advanced surfers can find Nirvana at Nyona's, a nearby break offering long, peeling rides and mellow take-offs. When the swell does pick up, the waves are world-class! Other nearby surf spots include Boatyards, Riptides and Natives.
Shangri-La's Villingili Resort & Spa
A tropical sanctuary just south of the equator, Shangri-La's is an exclusive all-villa retreat with endless recreational activities, unforgettable dining experiences and a spectacular 9-hole golf course. Set on one of the largest islands in the Maldives amidst lush vegetation, the resort features 132 villas, either nestled in the emerald jungle or over the sparkling blue water; a number of dining locations to choose from; and a myriad of activities - you are sure to have an unforgettable experience here.
Surf breaks nearby Shangri-La include a clean right-hander which took its name from the island itself - Shangri-La surf break, which wraps around the reef on the east side coast of the island; Madihera, on the south side of the island, is a long and pristine left-hander which is particularly susceptible to the wind.
The waves in this area are more suited to advanced surfers, with technical breaks which require speedy riding techniques. Other surf breaks in South Male' Atoll include Beacons, Castaways and Blue Bowls.